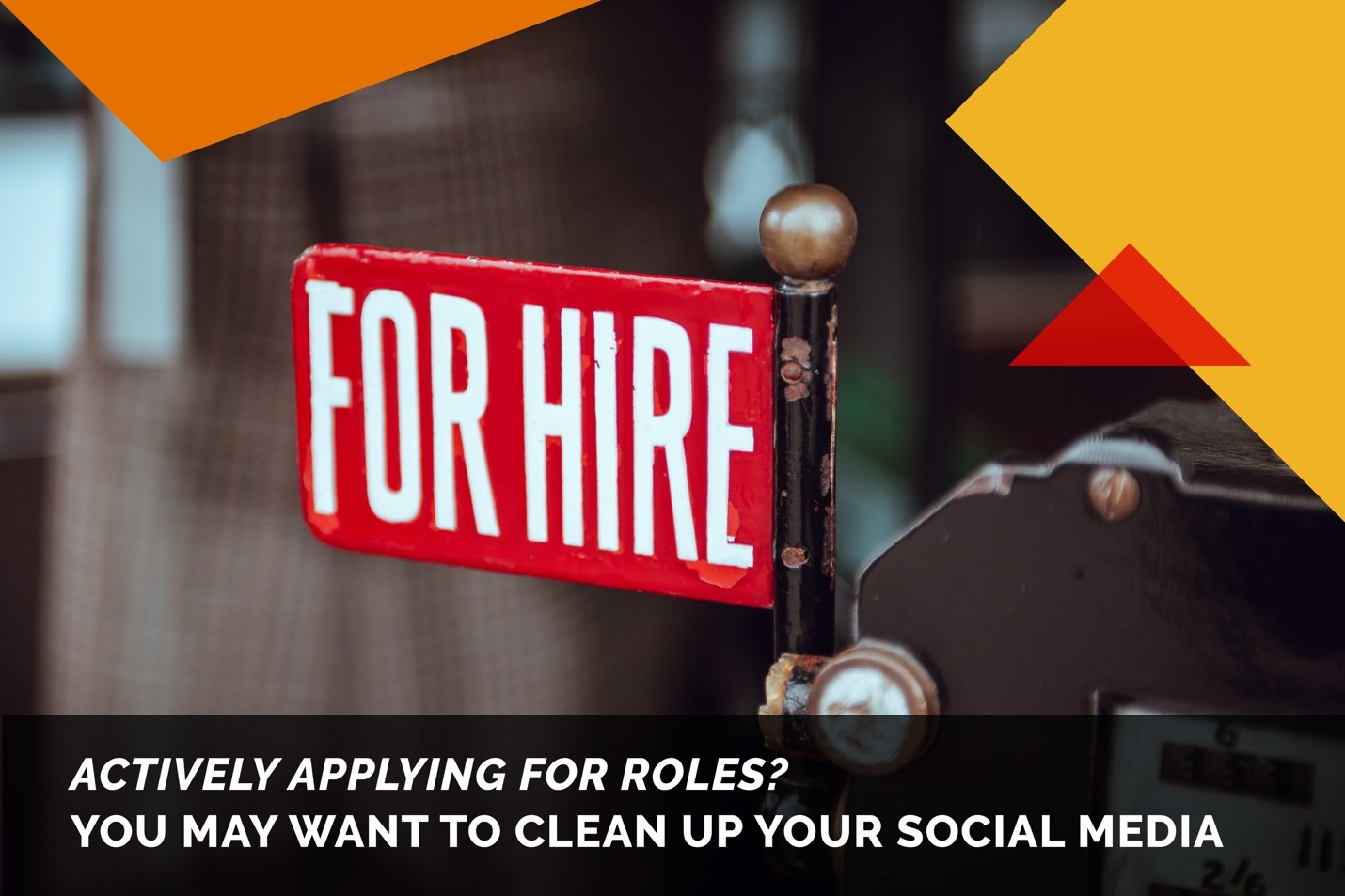 Actively Applying for Roles? You May Want to Clean up your Social Media
If you are currently looking for and applying for job opportunities, there's something you should know. It is highly likely that your prospective employers are also looking at you. More specifically your LinkedIn profile, Facebook posts, Twitter tweets and blog articles.
For some, this might be an unsettling thought. For others, perhaps those who have grown up in the digital age, this might seem fine. Whatever your feelings, we suggest it would help your career prospects to review your social media footprint.
Yes, employers are stalking you!
Whether you are comfortable with it or not, it is a fact. Employers are routinely looking through candidates' social media accounts for anything that might help them to decide whether to hire or not.
A 2017 survey from Careerbuilder (1) found that a whopping 70% of employers were trawling social media accounts. They also found that one in three of those employers had rejected a candidate based on what they had found in their social media investigations.
Before looking at how you can make the most of your social media assets there is some preliminary work to be done. Just as you would never polish dirty shoes (you wouldn't would you?), your very first task is to dig around for – and scrub out – any digital dirt on your social media profiles.
Clean first...
Surveys have shown that the two biggest turn-offs for employers are inappropriate photographs and evidence of excessive drinking and drug-taking. The more active social media using candidates are likely to have posts and pictures stretching back for many years. It is well worth spending time going back through your social media history to remove anything which might cast a shadow on your hire prospects.
While hiding too much content behind a privacy wall can be counterproductive, giving employers cause to wonder what the candidate has to hide, social media accounts do offer a range of privacy settings which are worth taking seriously.
For example, Facebook posts can be restricted so that only friends of the account holder can view the content. For particularly private posts, the account holder can restrict viewing to themselves alone, effectively deleting it from their timeline.
Other social media evidence that may reflect badly on candidates include posts bad-mouthing employers or coworkers, discriminating against certain groups and leaking confidential information.
Employers are also not likely to appreciate coming across facts which contradict what a candidate has put on their application form or revealed in an interview.
...then polish
Once you have cleaned up your social media profiles, it's time to turn to making sure that your best qualities shine through.
LinkedIn and Facebook are the most widely visited social media profiles visited by employers so it makes sense to focus most of your time on these platforms.
A good quality profile picture is important. It is perfectly fine to smile and depict a social context – you're not taking a passport photo – but photographs should fit the dimensions listed by the specific platform and avoid anything which could be construed as inappropriate or offensive.
You should complete all fields in your LinkedIn profile and Facebook About page as this will demonstrate your thoroughness. It will also help you to use these social media tools to their maximum effect. In particular, reaching out to former colleagues and employers for endorsements on LinkedIn could be very productive.
There is just too much juicy info floating around the internet for employers not to be interested. It would actually be irresponsible for them not to double check that their potential hires are not raging misogynists or loose-lipped liars.
There's only so much that candidates can do to keep prying eyes away. As for the rest, it's up to the candidates themselves to present a positive face to the world. One that says: 'Hire me!'
Are you convinced? Good. Get in touch with Mirillion to find out how else we can help you land that dream job!
Reference
1. Careerbuilder https://www.careerbuilder.com/advice/social-media-survey-2017





.